Welcome
Coming events
2018, November 23, 24, 25
Open atelier / sale exhibition at home, ceramics, bronze, paintings, jewellery, Talmaplein 12, 7523 ZA, Enschede
Fri. & Sat. & Sun. 11.00 - 17.00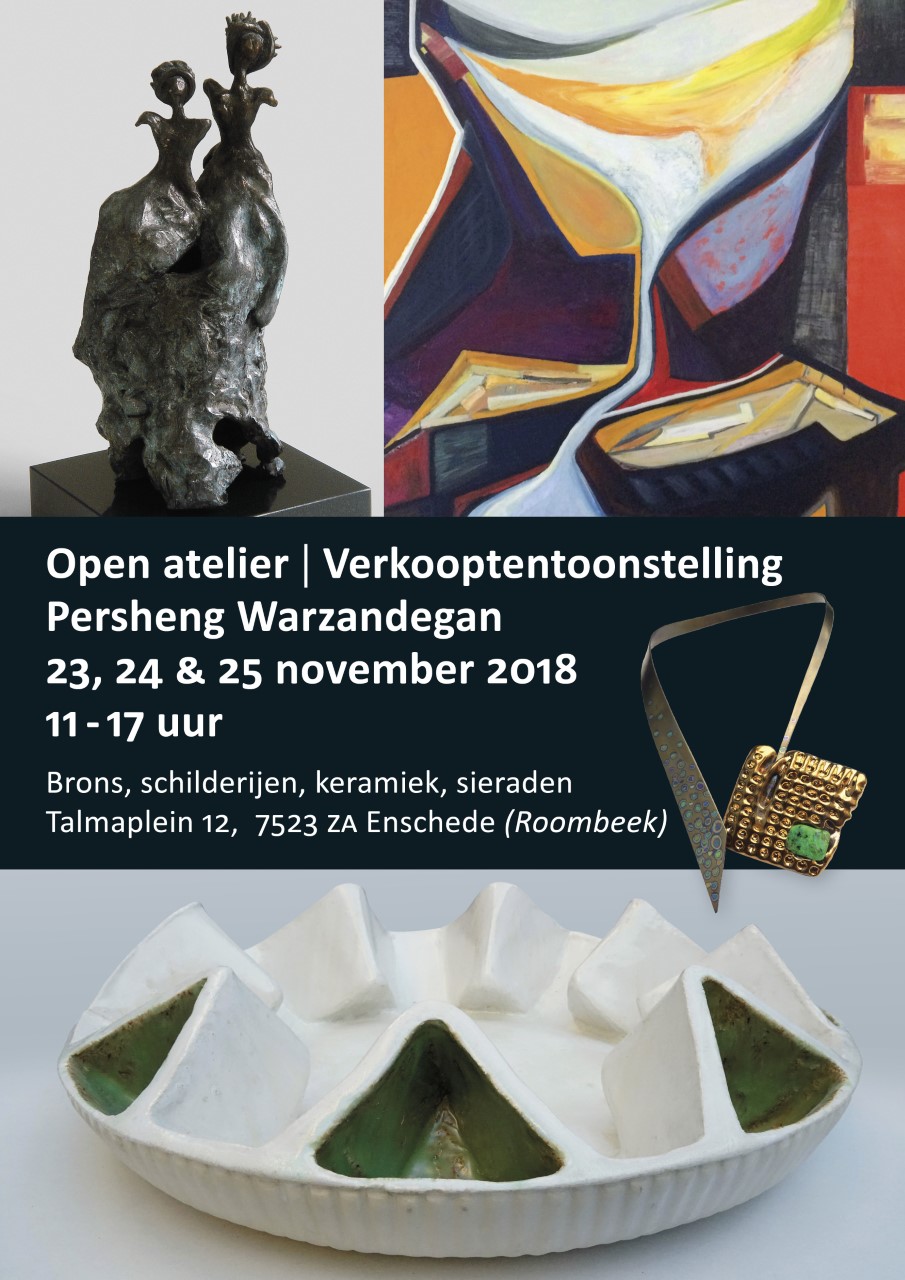 Previous events
2018, April 7 - June 10
Group exhibition for Anniversary exhibition Northern Netherlands Ceramicists,
Location "Centrum Beeldende Kunst", Emerweg 88 B, 7812 BG, Emmen
2018, May 19, 20 and 21

"Paasweekeinde erfgoed en kunst route", three days of heritage and art during the Pentecost weekend, Winterswijk
Sat. 13.00 - 17.00 hr, Sun. & Mon. 11.00 - 17.00 hr.
2018, February 17 - May 24

Group exhibition of ceramics, gallery "Hannie Mein Keramiekgalerie",
in home center of Wolvega, Frisaxstraat 12
2017, October 15 - November 19
Exhibition of paintings and ceramics, gallery "Kunstzaal Achterom",
Sterrebosstraat 2, 7481 DD, Haaksbergen, NETHERLANDS
Opening on Sunday October 15, at 14:30
Visiting time: Sat & Sun, 14:00 - 16:30
2016, September 18 - October 30
Exhibition of ceramics and paintings, Stichting Indigo
(Kunsthal Hof 88, Hofkampstraat 6, 7607 GD, Almelo, NETHERLANDS)
Opening on September 18, at 15:00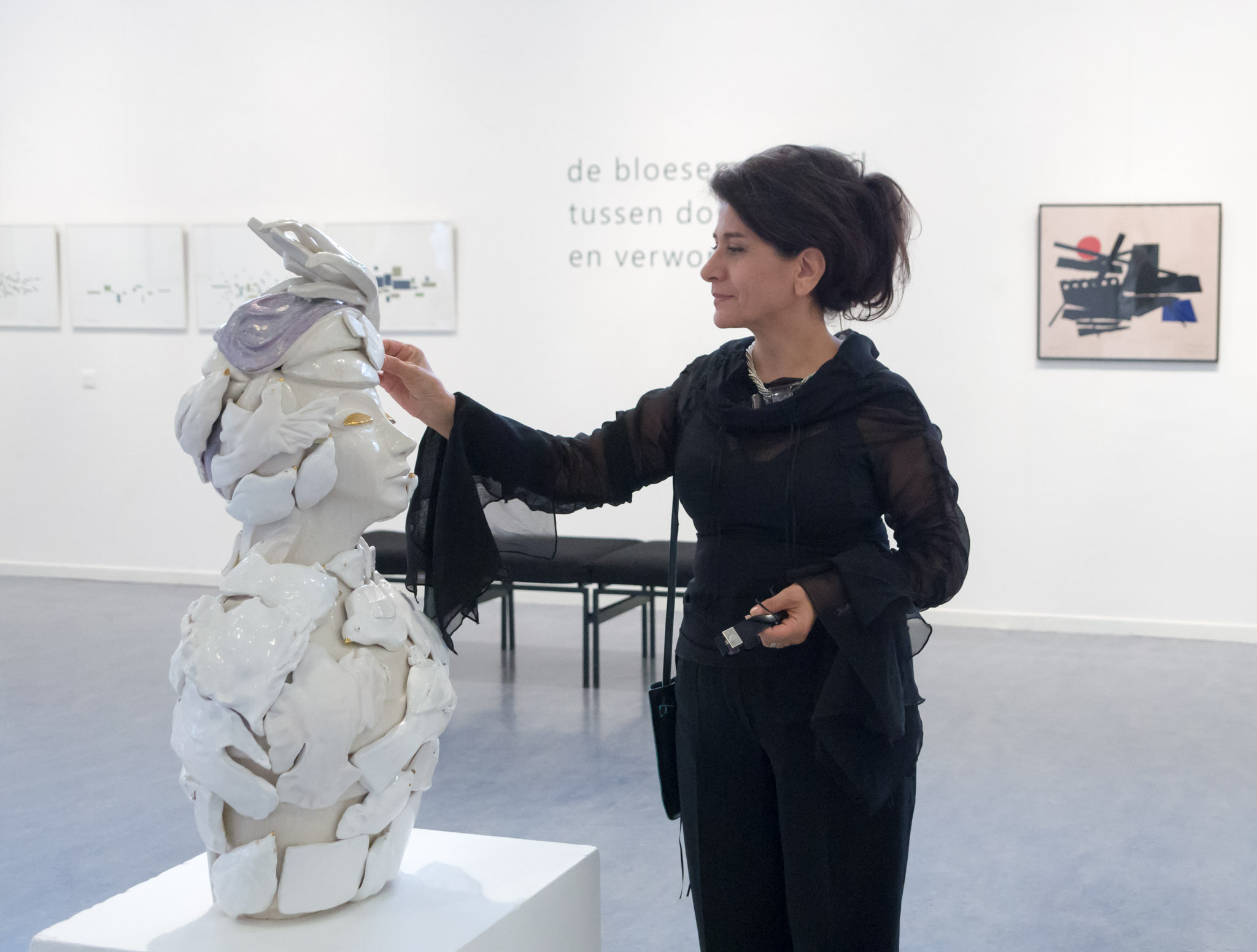 Photography by Eric Fischer
Watch the recordings here below:
2016, September 1 - In stock

In stock exhibition of ceramics and paintings, Gallery "Luz de la Vida",
Calle Laberinto Bajo 15, Competa (Malaga), SPAIN
Visiting my studio
Contact me to visit my studio:
This e-mail address is being protected from spambots. You need JavaScript enabled to view it
This e-mail address is being protected from spambots. You need JavaScript enabled to view it
0031 (0)53 4340 790

Neem contact om mijn studio te bezoeken:
This e-mail address is being protected from spambots. You need JavaScript enabled to view it
This e-mail address is being protected from spambots. You need JavaScript enabled to view it
0031 (0)53 4340 790
Few pictures of my studio / paar foto's van mijn studio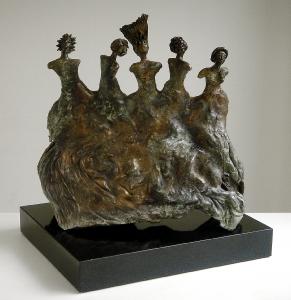 2013, February 24
Art Days in Zutphen, The Netherlands, where I won the first jury prize and the first public prize.
2005
A series of 40 bronze sculptures "You're not alone" in commission of the foundation Leendert Vriel, Enschede, Netherlands. This foundation provides health care to people with terminal deseases. The first sculpture was unveiled on April 2, 2005 by Her Majesty Beatrix, Queen of The Netherlands (photos by University of Twente)
2008
Price winning bronze sculpture selected by the Dutch Labor Union (FNV) with the name "infinity". This bronze sculpture was selected by the Dutch Labor Union two months before selecting its destination and offering it to its receiver.
From left to right:
Dutch Labor Union Coordinator Mr. Van Der Kolk
Dutch Labor Union Chairman Mrs. Agnes Jongerius
Ambassador of United Nation